Multimedia tour of ancient Kydonia through playful musical elements, using augmented reality technologies
Type
Funded Project
PI for TUC
Katerina Mania
Partners
• Ephorate of Antiquities of Chania
• Aegean Solutions
Research Domain
• Multimodal Interfaces – Music
• Cultural Heritage
• Augmented Reality
The project is about a mobile platform application that builds and integrates digital content of historical monuments recaps, as well as site and historical background music that aims to motivate visitors to explore the history of a city through a serious game (Serious Gaming). The Innovation for the proposed application will be the spatial integration of sound and music with historical documentation that will be combined with the visual element and will be a key element in the user's play, in the form of a musical story and audio footprint production.The software architecture of the system will be implemented with music and video scenarios and advanced augmented Reality features that enhance user experience while the visitor walks around points of interest.

Serious Games (SGs) have proven to be effective educational tools even for users with limited knowledge of digital media. They have proved equally or even more effective than traditional media. Learning through SG is based not only on learning but also on learning based on complex subject communication, increasing skills and enjoyment, engagement, inspiration, creativity and active participation.
The project will enable users to get acquainted with complex historical heritage concepts and motivate them to deepen the history of a city (Ancient Kydonia – Chania) in order to become active participants. Historical training through Serious Games as well as Virtual and Augmented Reality through visual and audio content will introduce the user to innovative modern technologies that will help him get to know the historic past of a city through a variety of visualizations.
The Augmented Museum: A multimodal Game-Based Augmented Reality Narrative for Cultural Heritage
As digitization has transformed media and Augmented Reality (AR) is evolving from a research area to a commodity, museums are creating interactive AR experiences to digitally enhance their collection and increase audience engagement. Head-worn AR experiences, though, face interaction challenges as they are often employed in busy spaces and are in need of intuitive multimodal interfaces for users on the move. This paper presents an innovative, work-in-progress, multimodal AR experience integrating non-obtrusive dialogue, music, and sound as well as gesture and gaze-based interaction, while a user is wearing a head-worn AR display. Users are motivated to explore and interact with digital cultural artefacts superimposed onto the real-world museum setting and physical artefacts, while moving around in a museum setting. We initially analyze interactive AR experiences to identify specific user requirements related to head-worn AR experiences. We deploy these requirements for the design of interactive, multimodal AR in a museum setting.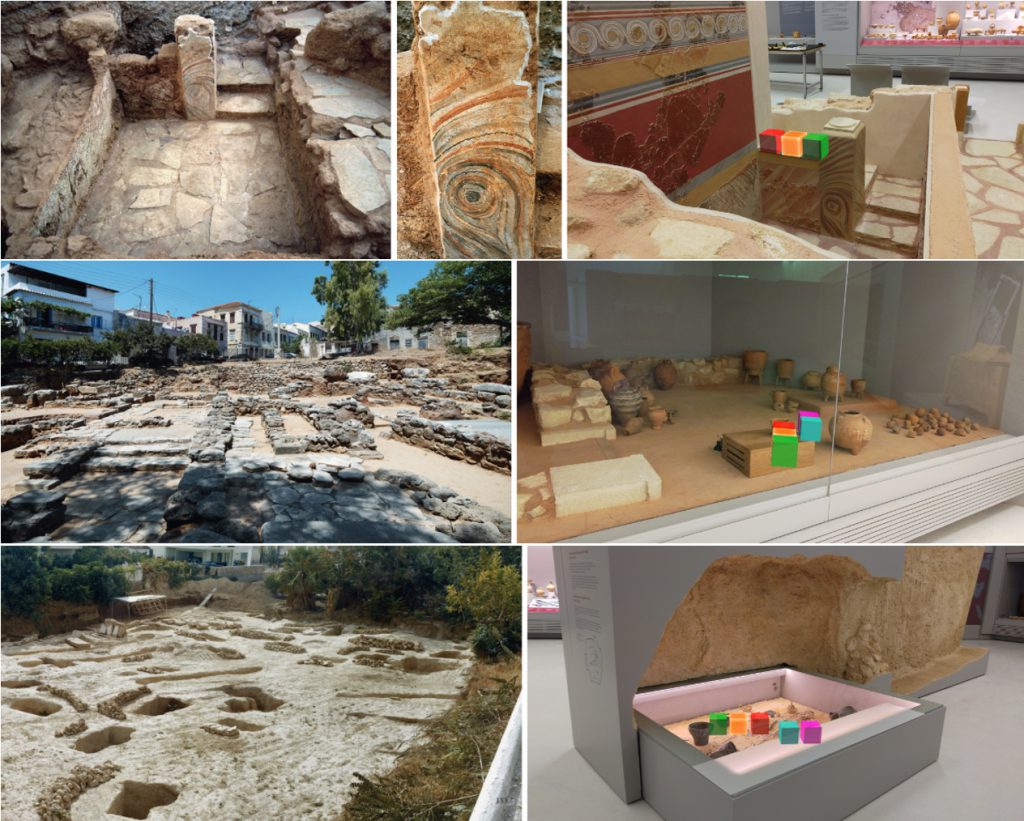 Fotis Giariskanis, Yannis Kritikos, Eftychia Protopapadaki, Anthi Papanastasiou, Eleni Papadopoulou, and Katerina Mania. 2022. The Augmented Museum: A Multimodal, Game-Based, Augmented Reality Narrative for Cultural Heritage. In ACM International Conference on Interactive Media Experiences (IMX '22), June 22–24, 2022, Aveiro, JB, Portugal. ACM, New York, NY, USA, 5 pages. https://doi.org/10.1145/3505284.3532967